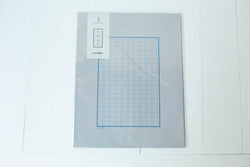 Yuruliku Genko Envelope - Medium
These wonderfully textured and eye-catching envelopes come in a set of 3.
Add a distinctive touch to any letter writing or personal mail. Designed like manuscript paper, these envelopes can be used for a variety of purposes, such as adding messages or using them for wrapping.
Dimensions: W216 x H277 mm.
Made in Japan