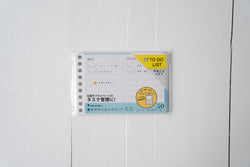 Maruman Loose Leaf 9 Holes, TO DO LIST, 5mm squared
This loose leaf mini B7 paper is a perfect fit for the Maruman Into-One and Make One's Day binders. It has 9 holes spaced approximately 9.7 mm apart from center to center, making it perfect for use in many Japanese binders including the ones listed under Compatible Products.
This pack contains 100 sheets of smooth, 80 gsm paper printed with a 5 mm grid. This sheet style is great for taking notes as well as drawing diagrams and and charts.