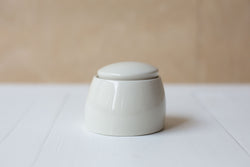 KINTO TOPO Sugar Pot - 180ml White
The KINTO TOPO Sugar Pot stores your sugar effortlessly. Designed with gentle curves and a minimal shape. 
Kinto's TOPO collection is designed to evoke the shape of small animals. Its soft curves and minimal, but fun design makes it distinctive from your normal homeware.
Dimensions 5.5 x 7 x 8.5 cm
Made in Japan