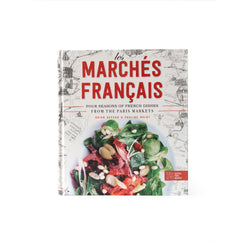 Les Marchés Francais: Four Seasons of French Dishes from the Paris Markets
In France, the best way to start dinner is to consult the market down the street. There, all of the country's flavours are at your fingertips: the Mediterranean, the French Alps, the Basque regions, and more. Brian DeFehr used the markets as inspiration to create dishes like the following, with photography throughout by Pauline Boldt:

Pear, Chestnut, and Radicchio salad
Braised Quails with Brussels Sprouts and Horseradish
Cherry Tomato and Basil Clafoutis
Seared Duck Breast and Caramelized Fennel
Crème Brulée with Lavender Infusion, and more!
All 72 dishes enclosed are gluten-free, though you'd never even know it, and easily adapted to suit the seasonal produce available to you. Gorgeous photos pepper the whole book, making for a beautiful and delicious escape.

Author: Brian Defehr & Pauline Boldt
Photography Pauline Boldt

Published: 
April 18, 2017

Publisher: 
Running Press

Language: 
English

Dimension: 
L 9.25" x 
W 8.25" x D 1.125"
The following ISBNs are associated with this title:

ISBN: 9780762461110,
Ebook ISBN:978-0-7624-6111-0