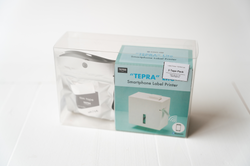 TEPRA Lite Smartphone label printer with tape set
Decorate your life with the TEPRA Lite LR30GS Tape Set! 
This label printer is easy to use, making tasks like organizing more exciting. The label printer can be connected to your phone through bluetooth.
Comes with a pack of 3 Film Tape Refills - white, smoky blue, and clear. 
Made in China