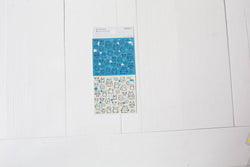 Transparent Schedule Stickers Monsters
Elevate your writing with these adorable embellishments. 
A delightful assortment of colourful prints, these stickers are made to make any surface pop. Useful for journalling, note writing, letters, calendars, and beyond.
Add some colour and joy to all and any of your written treasures.
Each package contains 2 sheets.