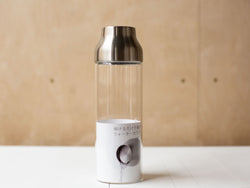 KINTO CAPSULE Water Carafe - 1L Stainless Steel
The KINTO CAPSULE Water Carafe is made to help you serve drinks one-handed with ease! It features an automatic lid that opens and closes by itself when tipped. The carafe is made of heat resistant glass bottle, with a durable lid. 
Maximum temperature differential: 120℃/248℉. Microwave safe and dishwasher safe.
Capacity 1L (33.8 oz)
Height 27cm
Made in Japan